Some Questions and Answers For First Time Cuba Visitors
Below I will answer some frequently asked questions about Cuba and Havana. If you are planning to visit Cuba, this information might come in handy.
Question:
We are from the USA and are trying to sort out our phones to work in Cuba. Do we need a new sim card or should we buy a phone in Havana? Any suggestions?
Answer:
The phone situation will not be easy. I hear that Verizon has a plan where your phone will automatically switch to the Cuban network once you enter Cuba. But it is very expensive to use and you might have to sign up for the program first. You can see info here:
http://www.cubaculturaltravel.com/travel/staying-connected
Also, a slightly cheaper option is to simply bring you existing phone and buy a Cuban sim card once you are in Cuba. You can get one at the ETECSA office in the Havana airport. It will cost about 3cuc per day to rent the line, plus you would have to recharge the card with credit.
You can also buy the sim card in Havana at most ETECSA sales offices, but there will likely be a huge lineup of local Cubans there.
Question:
Where can we purchase coffee, milk, eggs, fruit, bread, butter etc.? And what about household supplies? (dish soap, toilet paper, towels?)
Answer:
Even in Havana, household supplies are not that easy to find. There are some supermarkets where you can get some things, but they mostly sell packaged good. I would suggest that you bring you own dish soap, as the Cuban one is usually sold as a powder, and not a liquid. You might not find it very good.
The stores will not sell paper towels.
Toilet paper is available sometimes. Maybe one day yes and one day no. You might have to go shopping to a few stores before you find it. There will be some at the casa particular when you arrive, but likely only 1 roll.
There will be a new bar of soap in the casa particular too. But I suggest you simply bring a couple of extra bars of soap with you from the USA, so you don't have to waste time searching for soap in Havana.
The supermarkets will have coffee, but it will be expensive. But it will be good Cuban coffee. Most Cubans will buy cheaper coffee at small local markets or as part of their rations at the

Bodega.

While you cannot go to the Bodegas (only Cubans can shop at the Bodega), you would find cheap coffee at markets. But I will say honestly, even locals rarely buy and make their own coffee at home. It is cheaper to simply go to a local paladar cafe (street vendor) and buy it for about 1 to 2 pesos for an espresso (less than 10cents USD.)
There is a popular supermarket under the

Focsa building,

near the corner of L and 17th street.
The supermarket will have butter, usually. And cheese.
Milk – The supermarkets will only have dry milk powder and it is expensive. In Cuba there are no stores which sell liquid milk. At the Bodega, locals can get cheaper dried milk, but as a foreigner this option is not open to you.
Fruit, you can only get at an

outdoor market

 (a large one at the corner of 17th and B) or maybe from a street vendor who sells it

off a cart.
Bread – You can buy it a Panaderia bakery. You might have to ask your casa landlord for the exact location of the closest bakery to your casa. You can buy small breads for 1 peso each (5 cents USD) But if you go at supper time, they might not sell it to you, as they have to reserve enough for local Cubans. But usually there is no problem. Bring your own bag to carry the bread. You can sometimes also get bread at the supermarket, but it will cost about 5 times as much, and will be less fresh.
Eggs – The egg situation is complex. You can sometimes buy the eggs at small
Venta Libre
stores located beside the Bodegas. You can buy as many as you want. Usually they cost about 1.1 pesos each (5 cents USD). But these stores only have eggs sometimes. Maybe 2 times per week, max. And there is a good chance that locals will buy all the eggs before you arrive. Your chance of buying fresh eggs will not be high, and will depend a lot on chance and determination. Again, I would suggest that you simply buy omelettes (tortillas
)
from local street food vendors. An omelette sandwich will cost about 5 to 6 pesos, which is only marginally more expensive than buying the bread and the egg yourself.
There are many low cost street vendors in Vedado. I highly recommend just walking around and buying basics like egg sandwiches. For full meals, I would recommend you try a restaurant like

El Carmelo, which is located near the corner of 23rd and H street. The waitresses will try to up-sell you fancy foods, but if you stick to the Ofertas (meal deals) then you can get a large, full plate of food for about 5cuc, beer or drink included.
Question:
Will the apartment have utensils and pots in order for us to make coffee and prepare food in the apartment?
Answer:
If the apartment that you are renting has a kitchen (Usually composed of a sink, a fridge, and an electric or gas stove top), then there will almost always be utensils and pots and pans included. If not, then the landlord will usually have some to offer you, for free.
If you plan to cook, I would suggest you bring sugar and salt and spices, as those things can be a bit difficult for foreigners to buy. You might also need oil, which they have at the supermarket, but you would have to buy a 1 liter bottle, which might be much more than you will need for your stay.
Question:
For the Casa Particular, do we make payment upon room inspection?
Answer:
As for payment, you don't have to stress about it. I would suggest you exchange some money at the airport exchange office (CADECA) so you have a bit of walking around money for when you arrive to Havana, but you don't have to exchange all your money. Also note that if you bring USD, there is a 10% automatic surcharge at the exchange office, plus the standard 4 to 5% exchange fee. I would suggest you bring Canadian dollars or Euros, if you want to avoid the surcharge. You can exchange more money once you are in Havana, on an "as needed" basis. The CADECAS in Vedado will likely be closed if you arrive in the city after 6pm, so this is why I say that you should exchange money at the 24 hour airport CADECA.
You can pay your casa landlord on your second day, once you have had a chance to settle in and get your money exchanged. Or you can pay him all at once on the day you arrive, after you see the apartment. Either way, it won't matter much.
For apartments on the
BestCubaGuide.com
website, the apartment will be exactly as seen on the photos.  If you like the photos, then you will like the apartment.
Question:
Can we get tourist visas and travel health insurance at the airport in Cancun MX?  Our passports are current.
A friend told us to show up at the Cancun airport 4 hours before the Havana flight to be sure the airlines won't resell our tickets.  Is arrival 4 hours before flight time really necessary or something less sufficient?
Answer:
Havana tourist visas should be provided by your airline. The cost is almost always included in your ticket price. If not, then you will have to purchase the visa at the airline ticket desk. It's about 20$.
The visas are usually distributed on the plane. It's just a slip of paper where you write your name and passport number. It's nothing really special.
Your passport should be valid for at least 6 months. I don't know the exact specifications, but most places ask for 4 to 6 months of validity left on your passport, in order to travel.
You should show up at the airport 3 hours before departure. This is the standard rule for all international flights. In 90% of cases, the check in counter only opens 3 hours before departure. Arriving 4 hours before would be useless. You would probably be fine to arrive 2 hours before. The delays are just so that your luggage can be put on the plane. If you have no checked bags, then you would be able to arrive even with just 30 to 45 minutes notice (to pass through security).
Question:
We are looking at options for Viñales and Trinidad.
Answer:
It is $120 for a taxi to Trinidad and $75 for a taxi to Vinales. Prices are "one way." There is a complete

price list for taxis here.
A cheaper option is to use the Viazul bus

(Viazul.com).

I suggest if you want to use that option, then you make the bus reservations ASAP, as seats are very limited.
Question:
When we leave Havana, we are thinking of going to Vinales for a week.  We want a Casa Particular in order to be more exposed to the Cuban home life culture. We would like a taxi option with a driver who can offer ideas for stops along the way to Vinales.  We are not interested in fancy tourist facilities.
Answer:
Vinales for a week might be a bit too long. Most people will go for about 3 nights, not much more than that. One day to explore, and maybe walk around on a farm or pineapple grove. Another day to go on a horseback riding tour through the valley, check out a tobacco farm and swim in an underground cave lake (it's safe). And another day for you to climb a mogote (limestone hill).
The horseback riding tour would be organized by your casa landlord (they just call a local guy with a few horses and you set out together (about 20$ per person for the day)). The grove and mogote trips, you just walk around and do for yourselves. It's a really nice place. If you like nature and the idea of getting away from everything, then you will love Vinales. There are not many tourists, but the tourist infrastructure is good. If you are planning to go to the beach near Vinales then you might want to stay an extra day or two (more on this below).
Have you checked out the casas on the website? 
http://bestcubaguide.com/casas-particulares-in-vinales-cuba/
All the casas in Vinales are good.  I personally like Casa Villa Paraiso best, but the landlord does not speak much English. Have a look at the photos and I can call the landlords for availability.
The taxi to Vinales costs 75$ and I think it is well worth it. The Viazul will cost only 12cuc each person, but the trip takes 4 hours, because the bus stops many times. The taxi only takes about 2 hours.
The taxi

won't

really stop along the way. Unless you have something in particular that you want to see. Driving through the countryside, you will see interesting things, but there is nothing really noteworthy to stop for. It would be nice to stop at farms and walk in some fields, but fundamentally, you could do that easier in Vinales. You are better off going directly to Vinales, I think.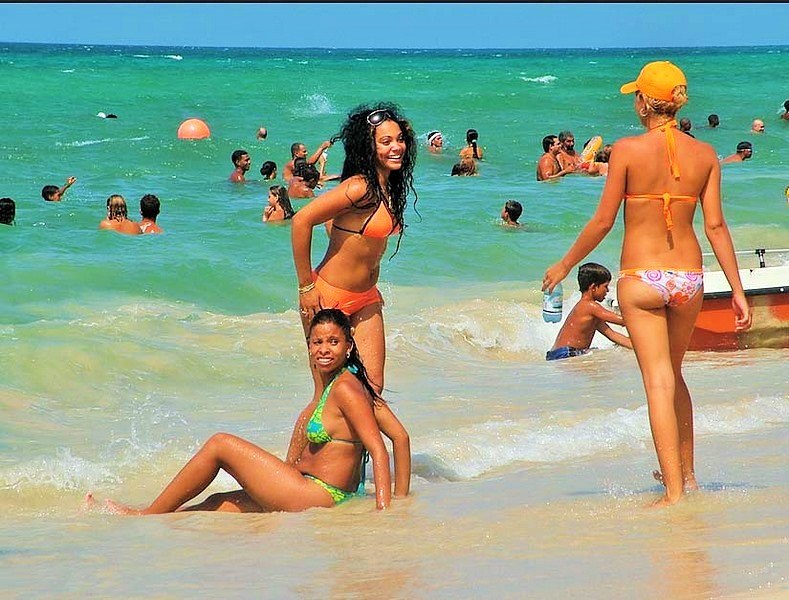 Question:
We will have ocean snorkeling gear with us (We are not deep sea divers) and will be looking for beach options where we can swim to ocean reefs with tropical fish to view.  Any suggestions?  Like Playas del Este, possibly?
Answer:
 For snorkeling, Vinales is not so close to a beach, since it is in the middle of the island. You can pay a simple local taxi to take you the beach, and the cost would probably be about 15$. If you want the taxi to wait for you and drive you back at the end of the day, it would cost 30 to 60cuc, depending on where you go. You can get cheaper deals sometimes.. you just have to ask around. Your casa landlord could easily set this up for you. The closest beaches are Cayo Jutias and Cayo Levisa. Cayo Levisa is actually an island, so you would have to take the ferry to get there. There are also some cheap excursions which will take you to the beach for a day, a meal is sometimes included too. You can check out
http://taxivinalescuba.com/PrivateTransfersandTours/vistas/en/tours.php
for more info.
There are no reefs in Playa del Este that I know of, but it is still a nice beach and easy to get to since it is close to Havana. For simple snorkeling you should be fine in either Jutias or Levisa. For good scuba diving, the best place is
Maria de la Gorda
(on the western tips of Cuba) or Playa Larga (on the southern side of the island).
 Article by Claudia G.M.
Want to learn about Havana and how to explore Cuba like a local?
Download the Best Cuba and Havana Travel guide: Real Havana.