If you have organized an Airport Pickup through the BestCubaGuide.com website, then the taxi driver will be waiting for you at the arrivals gate (ground floor) when you arrive.
If you arrive a bit early and wandering around the airport, (if you go up the escalator, to exchange you money on the second level) then you might miss the driver.
Just remember that the driver will be on the ground level, at your arrivals gate, and that is where you can find him. It's probably best to meet the driver first, and then go change your money.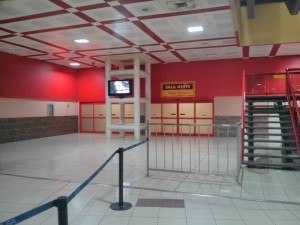 This is the airport gate in Terminal 3 where you will probably exit from. The taxi driver should be waiting right in front in order to pick you up. If he is not there, wait a few minutes. He will show up.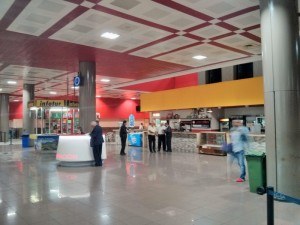 This is the info desk, just in front of the arrivals gate. The ground floor of the Havana airport is tiny. It only has 2 gates. You can't get lost. The only way you can get lost is if you move to another level of the airport. If you are waiting for your taxi driver, do not go to a different level. The driver will always wait on the ground floor, at the arrivals gate.