In this post I will write a bit about one of my adventures roaming Cuba and meeting locals and about why I enjoy Cuba and about how it has changed my views of the world.
Backpacking Through Baracoa, Cuba – Authentic Exploration
Baracoa, Cuba. It's on the eastern tip of the island. It is said that it is one of the first places Christopher Columbus landed when he arrived in North America. To this day it remains a remote location – Distant from the everyday Cuban life with only 2 roads connecting the town with the rest of Cuba (1 of which was wiped out completely in a hurricane which heavily destroyed the area in 2016 – see end of article). It's a place rich in history and natural beauty.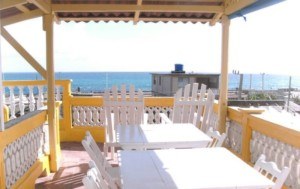 I had no plans or casa particular reservations. Not even a map. The second I got off the bus, locals crowded around me and I was offered a casa for 15 CUC ($15 USD) per night. "Sure," I said, and followed the old man to his home. It was the most beautiful place I had ever stayed in, in Cuba. It wasn't a modern apartment with sleek tiles and chic bathroom fixtures. It wasn't a dump either. It was a place that really felt like home. And there was a beautiful terrace on the roof where I could feel the cool ocean breeze.
I asked the landlord if he knew where I could rent a bike. 30 minutes later, a bike showed up at my door. 5 CUC rental per day. It was a 1960s cruiser, covered in rust with wobbly wheels and gentle brakes, but it would serve me well.
I told the owner I wanted to climb the famous mountain (El Yunque). He thought I was crazy, but he explained the route a bit and told me to follow some signs. The next morning, I took my bike and made my way to the mountain. I could see it just a few kilometers from the town. It didn't look very big at all. My goal was to bike up the gentle sloping path that follows the river Duaba.
Plans Change Rapidly in Cuba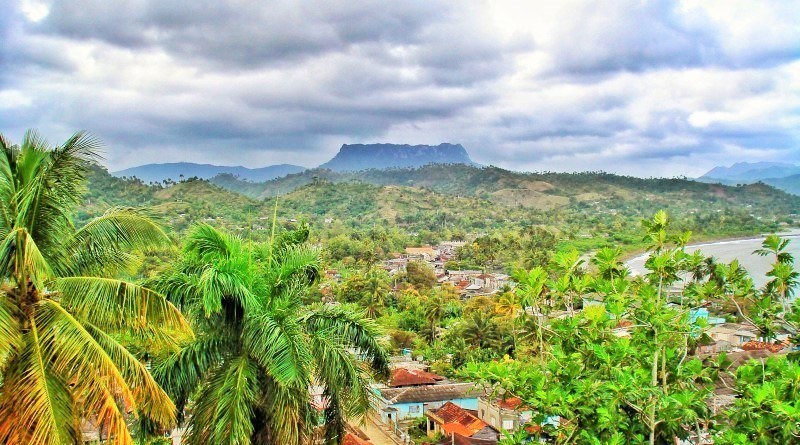 Long story short, I never got to the top of the mountain. For those that don't know, Baracoa is like a jungle. A Cuban jungle with some of the highest rainfall levels in the world. Every day it rains in Baracoa. Usually more than once. And some times it can get down right torrential. And on this day, with me halfway up the mountain, it had been raining steadily since I had left my casa, and it was only getting worse. A small tour bus passed me on the way up and I half considered asking for a ride, but I did not want to leave my bike. At about 4pm, I decided to head back down, not wanting to risk staying out on the mountain in the dark.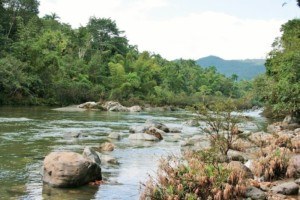 Despite not reaching the top, that day was one of the most memorable in my life. About halfway up, I met an old woman who had been living in the same clapboard shack, on the side of the cliff for 84 years. In all that time, she had only been to the main town a handful of times. She made me lunch and suggested that instead of trekking to the top of the hill, I would have more fun going to the waterfall. And she was right. About 500 meters from her house, there was the most beautiful waterfall I have ever seen, flowing into a massive river, filled with boulders the size of large houses. It was a prehistoric scene that I could scarcely believe. There was not another human being in sight.
When I got back to my apartment I explained everything to my landlord. I told him all about my adventures that day on the mountain. He had no idea what I was talking about, nor did he really care. He said that when he was young he once tried to go to the base of the mountain for a party but never even made it. In all his years, living just a few kilometers from this wonderful place, he had never even bothered to visit. It made me realize that in life, we each have to choose and make our own adventure.
The Real Cuba Experience
Havana can be dirty and unpleasant sometimes, but it is the capital city and the largest, so the people who live there often do so out of necessity. But in other cities and smaller towns, people settle there because it is beautiful, or they have deep historical roots in the area. It's a pure culture. And money is much less of a driving force.
Maybe I should have mentioned that in the guide. You should not go to Cuba just to have a cheap vacation. It's not about going to explore a small town in order to get more bang for your bucks. It's about walking in a town where you know everybody has very little money or no money at all, but life continues without interruption, the kids are healthy; playing, going to school, talking about mundane events. Their shoes are worn, but they don't even think of it. It's a human experience. And you are much more likely to get these experiences in poorer areas of Cuba, despite all of Cuba being a relatively poor country (money-wise at least).
For me, it's a calming environment. In a fruit market, if you are buying something from a local, you are much less likely to be ripped off. In Havana there is always a hustle for cash. There is much less of that in the rest of the country. 
A Guidebook about Exploring Small Cuban Towns?
And, for all those people who ask me why I don't write another guidebook on Cuba and exploring the small towns outside of Havana. Well, the answer is simple – I would prefer that the areas outside of Havana remain a bit of a mystery. I would prefer that the foreigners who choose to explore those areas do so because they really want to learn about the culture and experience something new. Something would break inside me if I was in a lost town in the middle of the island and a tour bus full of teenager showed up with their selfie sticks, ready to party "like a local."

Note: As mentioned above, Baracoa was heavily damaged by a hurricane in 2016. The main bridge to the city collapsed. Almost all the buildings in the city were flooded and many destroyed. As of today, March 21, 2017, the town is functional and can accept tourists. There are many casas which have returned to operation and many businesses have re-opened. Despite that, there is still a huge construction effort underway to repair some heavily damaged buildings and the town and outskirts of town still have a lot of debris everywhere. Check the comments below for recent user experiences in Baracoa, Cuba.
Want to learn about Havana and how to explore Cuba like a local?
Download the Best Cuba and Havana Travel guide: Real Havana.