Popular and Cheap Restaurants in Havana
There are thousands of great restaurants in Havana. Walk around for five minutes and you are sure to find a good one. Despite what some guides might say, the average quality of food in Havana, especially the authentic Cuban cuisine, is extremely high. The core meals consist of rice, beans, chicken and pork. Despite the simple ingredients, these meals are very flavorful and filling.
The following list profiles some of the cheapest, best restaurants in Havana. These are locations where you can have a full course, sit down meal for under 5 CUC per person. You will immediately notice that most of these restaurants are located in Vedado. The reason is simple; in Vedado, most of the people eating in restaurants are local Cubans, so the prices are always much lower than restaurants in Old Havana or Central Havana. Furthermore, many of the restaurants on this list are state-run. These restaurants often sell the same quality of food you will get at an independent paladar location, but at a lower cost. Service is sometimes less refined at state restaurants, but that is not a major concern for most people. Also note that, while these restaurants are cheap, their menus do include some fancier and higher priced items as well. I generally recommend selecting from table d'hote (ofertas) selections as these options are the most popular, freshest and cheapest. The ofertas consist of full course meals where there is a main meat dish, as well as side orders of rice, beans, salad and vianda (starchy root vegetable like potato or yucca). The meals usually also include a dessert and a drink.
El Carmelo (23 at the corner of H)
This is probably Vedado's best known, fancy, sit down restaurant – but don't let that scare you. While the ambiance is upscale, the prices at this state restaurant are low. All the ofertas are priced at under 5 CUC. They included a main dish with your choice of meat, as well as rice, salad and vianda. A drink, either fresh juice or a beer, and a dessert are also included. Portions at this restaurant are huge. The bistec de cerdo (fried pork fillet) or the escalopes de cerdo (breaded pork fillet) are massive and can easily feed two people. On the regular menu, the pizzas are inexpensive, but nothing to write home about, and while the lasagna is far from being authentic Italian, you get a massive serving, weighing almost 2 pounds and costing only 2.50 CUC. It's easy to see why locals love eating at this restaurant and it will easily make its way into your dining rotation while in Vedado. The restaurant's theme is based around Charlie Chaplin and the classic silent movie era. There is live music on the weekends and even a rather talented Chaplin impersonator, who greets guests (silently) and provides entertainment. All prices are in CUC.
Artechef (Calle 3 at the corner of A)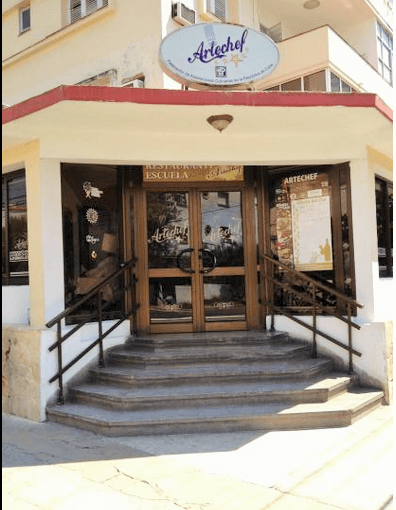 This state-run restaurant is located just a few blocks away from the Malecon and both the Melia Cohiba and the Riviera hotels. In my opinion, it is one of Havana's best-kept secrets. This establishment looks very upscale, with a formally dressed staff and elegantly set tables, but the prices, in relation to the quality of food you will receive, are rock bottom. Daily specials are advertised in the window and prices range from 3 to 4 CUC per meal. Everything is priced in CUC. Unlike most of the other restaurants in this list, the table d'hotes here do not include an alcoholic beverage, but rather a freshly squeezed juice. The thing that really separates this restaurant from all the others is that, in addition to being a restaurant, it is also a culinary school. The school teaches modern cooking practices and allows the students a degree of artistic freedom when preparing the plates. The meats are cut, prepared and presented differently from most other restaurants in Cuba. Dishes arrive at your table looking like they are ready for a magazine cover photo. Meals are properly seasoned, have rich sauces, and food portions are satisfying without being overwhelming. In all my trips to Cuba, this is the best location I have found to get modern, high end, Cuban food at a very reasonable price.
La Kasalta (Corner of Calle 2 and Ave 5ta, in Miramar)
This large, state-run restaurant is located in Miramar, just after the Calzada Tunnel leading out of Vedado. It faces the tunnel, so it is extremely easy to find. If you want a break from Havana, venture out to Miramar, sit down at the Kasalta and enjoy a great meal. The restaurant has a sports bar theme and the food is fantastic. Everything is priced in CUC. Most of the ofertas are priced at about 4 to 5 CUC and they include desert and a beer. Meal portions are generous; it will be a challenge to finish all the food. Service is fast and friendly and the ambiance is casual. In the late evening, the restaurant takes on a bar atmosphere and is a great place to have a drink and watch sports on one of their many large televisions.
El Cochinito (23 between H and I)
El Cochinito is Spanish for the piglet. It's a fitting name because the menu centers around pork dishes, although there are a few chicken items, too. Among locals, this state-run restaurant has developed a bit of a bad reputation, not because of the food quality, but because of the slow service. Honestly, I have dined here many times, and sometimes the service is fast and courteous, and sometimes it takes forever to eat. Regardless, the food is good and the prices are among the cheapest in Havana. Oferta specials start at just 30 pesos (MN). This price does not include a drink. Portions are a bit smaller than average, but even if you order extra items, it will probably be very difficult to spend more than 60 pesos (MN) per person for a meal. The restaurant tends to pack up in the evening, but even so, there is rarely a lineup in front. I suggest arriving around 8pm, which is the busy time. Service will actually be a bit faster, as this will be the period when all the staff is working.
Buona Sera (23 at the corner of I)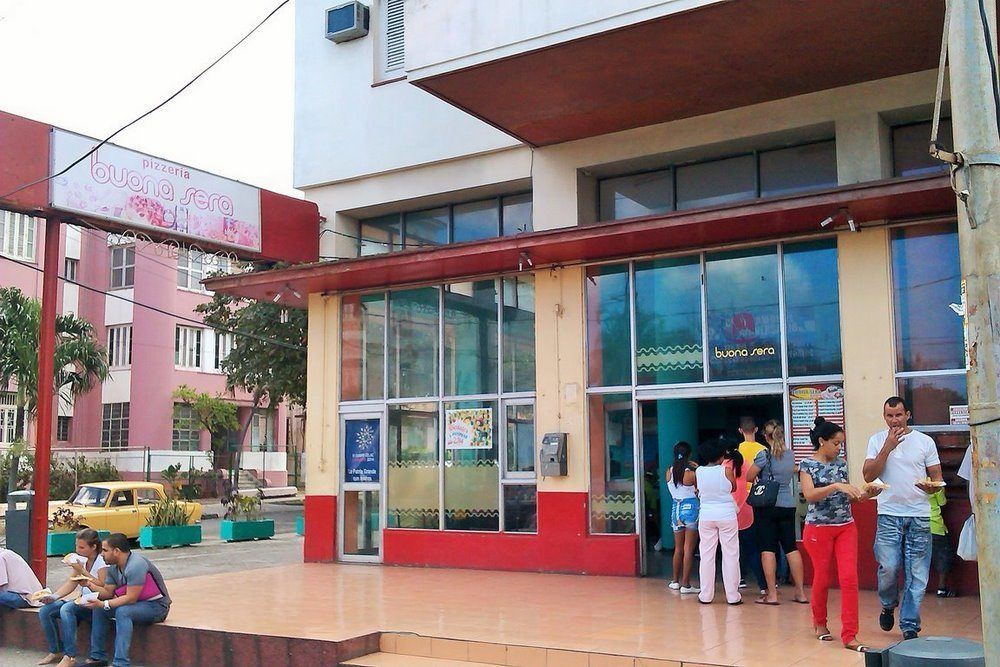 While this is not a fancy restaurant, it is very popular with locals, and extremely cheap. It's located just down the road from the University of Havana, so it's a popular spot for young people to meet up. The menu of this state-run restaurant is composed of Italian dishes. The food is comparable to Italian dishes you will find througho ut Havana. Everything is priced in Moneda Nacional. Prices for a regular cheese pizza (Napoletana) start at only 10 pesos. The price for spaghetti ranges from 10 pesos for a cheese and tomato sauce dish, to 15 pesos for spaghetti garnished with chopped ham. Juices and soft drinks are sold at state prices – soft drink cans are 10 pesos, beers are 18 to 20 pesos depending on brand. Service tends to be a bit slow. For a cheap and simple meal, this is definitely the place to come.
Cinecittà (23 at the corner of 12th)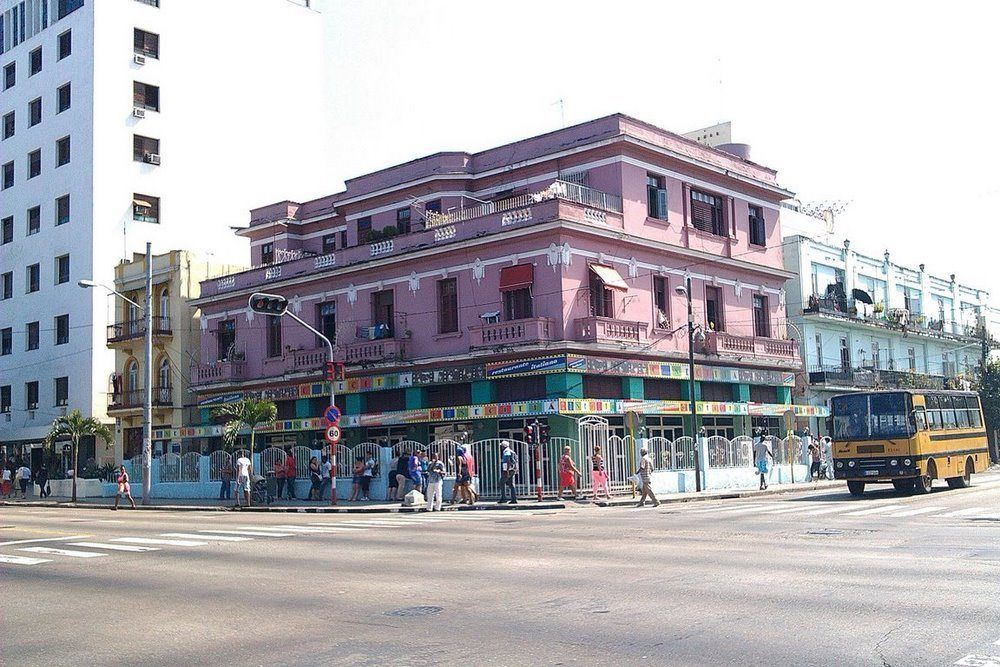 Named after the famous Roman film studio, the theme of this state-run restaurant is the cinema. The walls are plastered with vintage movie posters and photos of famous actors. This restaurant is located slightly further away from downtown Vedado. Given its location, you will notice very few tourists here. The menu centers around Italian dishes and is very similar to Buona Sera, although more upscale. Everything is priced in Moneda Nacional. Pizza and spaghetti plates start at 10 pesos and lasagna and cannelloni dishes are priced at 25 pesos. Beers and soft drinks are sold at state prices. Ice cream is available as a dessert and costs only 3 pesos per scoop. This restaurant is very popular with young people and the lineups on weekends are notoriously long. During the week, if you arrive before 8pm, there should be no lineup at all. The service at this restaurant is surprisingly fast and the servers are very courteous.
Want to learn about dozens more great, cheap restaurants in Havana which are popular with local diners?
Download the Best Cuba and Havana Travel guide: Real Havana.